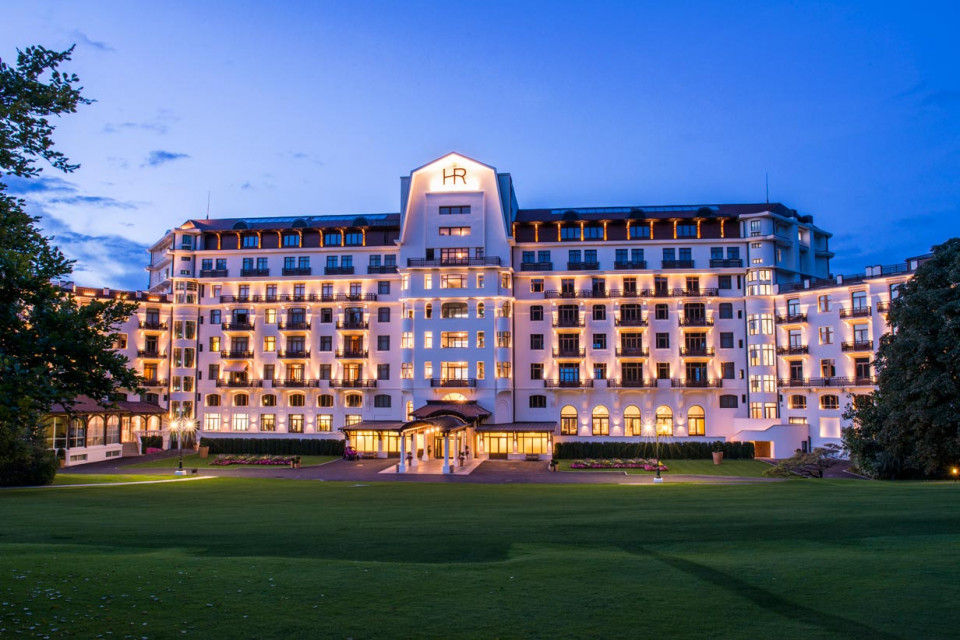 Hotel details
There are numerous reasons why you should visit the Hotel Royal, perched above the majestic Lake Geneva. It is the perfect getaway in the heart of Europe and easily accessible from Geneva Airport in under one and a half hours or forty-five minutes by boat. Built on a nature reserve above the historic town of Evian, the Hotel Royal which in 2015 re-opened its doors after a total renovation with 150 beautiful rooms and suites. Originally built in 1909 this Palace has once again re-discovered its splendour.
It won't surprise you to know that this is also a gastronomic heaven with a gastronomic Michelin starred restaurant called Les Fresques, as well as La Véranda, a relaxed atmosphere place for a culinary worldwide tour. Chef Patrice Vander and his team continue to reinvent classic French cuisine and to garner prestigious awards.
Evian is well known for its annual golf event – the Evian Championship. It is an iconic and challenging 18-hole Major golf course which is open from March until November for golfers with a handicap 35 minimum. A David Leadbetter Golf Academy is also available for the ones willing to learn or perfect their game. On the same level of perfection are the world-famous spa facilities with 24 private treatment rooms, 2 pools, sauna and steam room as well as a beautiful fitness center. Why not try the Signature Ritual using the best caviar there is as a base for facial and body treatments. You would expect nothing less from somewhere as classic as the Evian Resort.
Royal treatment for children at the Kid's Resort, located on the property, children are spoilt for choice with a wide range of activities offered by the qualified staff at dedicated 1000m2 facilities.
0