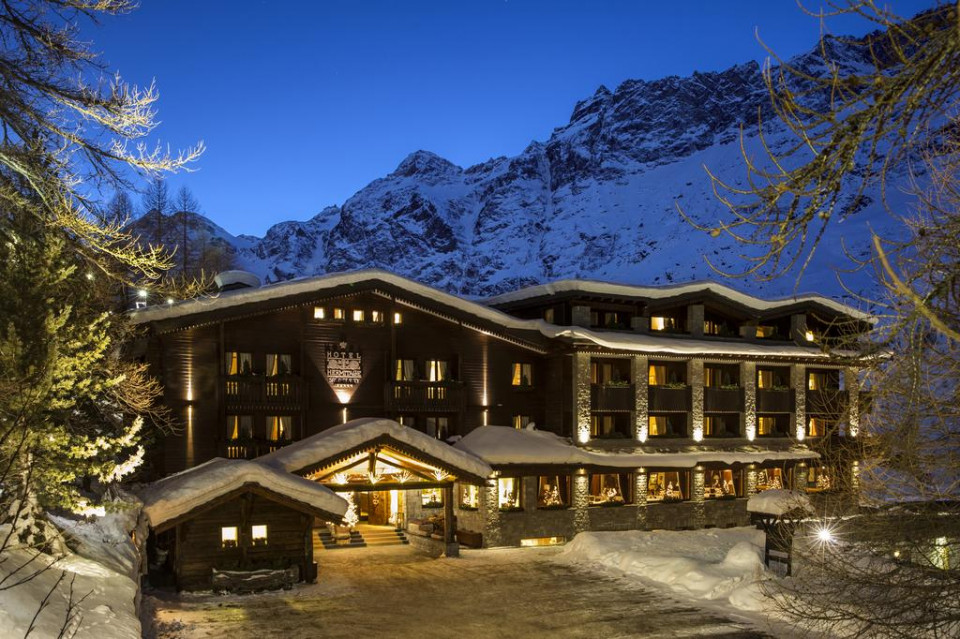 Hotel details
Over 2000 metres high at the foot of the Matterhorn, come to Cervinia and discover the Hotel Hermitage. This is one of the largest combined ski areas in the Alps covering three valleys over two nations, Italy and Switzerland, giving you the best of both countries. In late spring when the snow clears you have a majestic 18 hole golf course, amongst the finest in the Alps not to mention one of the highest.
You can choose from the luxurious master suites to the cosy classic attic rooms. The hotel also have a master suite available or the option of connected rooms to accommodate large family groups who cherish their privacy.
Evenings are a delight in winter or summer. You can dine on simple fresh grilled fish or meat or you can experience more complex, innovative cuisine according to your taste. From informal to fine dining, to the bar to the wine cellar, you have a choice of ambience, which you can sample each night of your stay.
As the first luxury La Prairie spa to open in Cervinia the Hotel Hermitage knows what it takes to ease your muscles after a day on the ski slopes or hiking in the Alps. The spa is all about health and beauty and harnessing the rejuvenation powers of the mountains.
So if you crave to be in the mountains, come and stay a while in this unique luxury haven high up in the Alps. The fire is always on here and has been for over 40 years. You will leave rejuvenated, relaxed and ready again for the outside world.
0